Original painting by Charles Kaufman.
60 x 80 cm / 23.6 x31.5 inches.
Acrylic paints on stretched canvas.
--------------------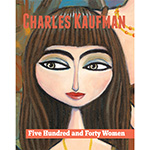 Art Book Bonus: Free hand signed and dated copy of Charles Kaufman's 246-page art book, "Five Hundred and Forty Women" included with the original painting.
We ship worldwide.
Shipping costs here.