Q & A.
Do you use models for your paintings?

No, the women in the paintings are from my imagination.
Are they paintings of women you know or have known?
No, I just paint whatever pops in my mind at the time.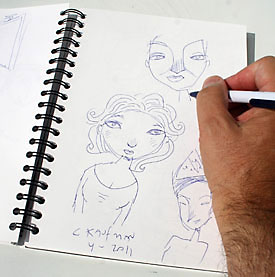 Do you sketch out your ideas for the paintings?
I draw in my sketchbooks daily; sometimes I use the ideas. But the sketches are usually small and not much detail.
Usually I see an idea in one of my sketches, say a different pose or hairstyle, and then try to incorporate it in a painting.
What is your usual method for creating a painting of a woman?
Usually I just put a blank canvas on the easel, grab a pencil and start sketching out an idea.
If I am using an idea from a sketch book, I draw it rougly on the canvas. Rarely do the sketch idea and finished painting look identical. (Some comparisons between sketch and finished painting here.)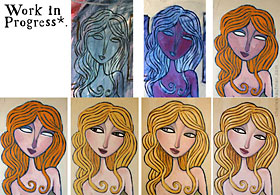 Once the initial drawing is on the canvas what next?
Usually I paint in the outlines, put a color wash over the canvas and then just start painting.
What is the most difficult thing for you in painting?
Two answers:
1. The colors. Change one color and it effects the entire painting. Many a time I have changed a single small color and based on that change, gone over the painting and repainted it all.
2. With the women the two hardest parts are the eyes and the nose. After painting so many women one would think it would come automatic and be fairly routine...but it is not.
On average I repaint the eyes 3-4 or more times and the mouth 5,6, 7 or mores. It amazes me how the slightest change in the curve of the line in the mouth can change the emotion in the painting.
Why do you create paintings of women?
With the women there are so many interesting curves and lines and possibilities it is just a fun challenge to try to get it right.
Do you get it right every time?
No. Usually when the painting is not working out I hide it away and then in a couple weeks or months I look at it with fresh eyes in the hopes of seeing if I can solve the creative situation.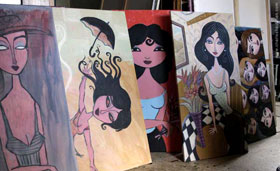 And if you can't?
Paint over it and start again. Several people own two paintings in one canvas; the one they see and the one I painted over! :-)
Do you ever get bored painting?
It is always a fun challenge and I am always surprised how the finished painting turns out. A while back I drew a cartoon about my painting process. (Here is the link to the comic.)
How often do you paint?
Almost every day. Usually 12, 14 or more hours.
What do people say about your paintings?
People like the many colors, the positive feelings the paintings give off, some subtle humor and just that it makes people feel good.
At an exhibition a woman told me she had been to another of my art shows and she said she came in the gallery each day to look at my paintings because of all the positive energy she got from the art.
What next with your paintings of women?
I want to paint on bigger canvases - 2 x 5 meters. But first I need a bigger art studio!
Do you take commissions and paint portraits of women?
It is something I am asked quite a lot about and am considering it, but only on a very limited basis.